Title:
Tales of the Abyss - Reminiscences of Jade chapter 02
Artist:
Ayumi Kano
Rating:
PG
Summary:
A series being serialized on Asuka magazine since 24 April 2009, this manga will focus on the past of Necromancer Jade Curtiss. In Chapter 2, the party heads to Grand Chokmah to find answers and meets a couple of Jade's old acquaintances... in other words, HAI PEONY.
Spoiler Warning:
Spoilers to those who haven't finished playing the game or watching the anime.
Scanner:
minrathous
Downloads:
Mediafire -
Link 1
(~14MB, jpg),
Link 2
(~42MB, png)
Sendspace -
Folder
(~14MB, jpg, ~42MB, png)
Chapter 1
Redistribution policy:
Go ahead as long as credits are left in, but please cease all distribution if the manga is licensed.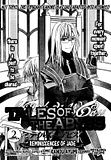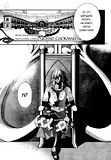 Sorry for the long break we took. We weren't sure if people were interested in this scanlation, judging by the amount of comments. (That, and real life caught up.)
Meanwhile, our next release is another Gyakuten Saiban doujinshi, that is already cleaned and translated. After that is a PeonyxJade doujinshi, which a fellow fan kindly offered for us to scanlate. Watch our progress on our
profile
~
Merry Christmas in advance and Happy Holidays~