Title:
Tales of the Abyss - Reminiscences of Jade chapter 03
Artist:
Ayumi Kano
Rating:
PG
Summary:
A series being serialized on Asuka magazine since 24 April 2009, this manga will focus on the past of Necromancer Jade Curtiss. In Chapter 3, Jade's old classmate shares stories of the past with the party with Peony's uninvited participation.
Spoiler Warning:
Spoilers to those who haven't finished playing the game or watching the anime.
Scanner:
chiyo_sama
Downloads:
Mediafire -
Link 1
(~14MB, jpg),
Link 2
(~43MB, png)
Sendspace -
Folder
(~14MB, jpg, ~43MB, png)
Chapter 1
,
Chapter 2
Redistribution policy:
Go ahead as long as credits are left in, but please cease all distribution if the manga is licensed.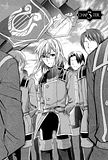 Chapter 3 is brought to you by Buusagi and Wings of an Angel. Also, Wings of an Angel turns 3 today - check out
their site
for more releases!
Also, big thank you to those who commented. Look forward to chapter 4's release =)