Title:
Phony Phonic
Circle/Artist:
Megaton Megane/Thomas
Pairing(s):
Peony x Jade, none
Rating:
PG
Summary:
Apparently Megaton Megane's first book, it features 4 short stories about Peony/Jade centered around events in the game.
Scanner:
zetrine
Proofreader:
sargent_snarky
Downloads:
Mediafire -
Link 1
(~10MB, jpg),
Link 2
(~28MB, png)
Sendspace -
Link 1
(~10MB, jpg),
Link 2
(~28MB, png)
Redistribution policy:
Go ahead as long as credits are left in.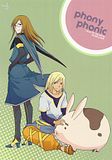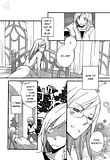 Do leave comments if you enjoyed the release! Even if it's just to let us know you downloaded, or leaving a thank-you for our scanner and proofreader.
Our next project is a ~special~ NC17 anthology Change - featuring female!Jade, made possible by another fellow fan who has kindly scanned us her copy responding to our
"If you scan, we will scanlate"
post (which we have updated btw). ;)
Also, we are looking for a couple more ad-hoc cleaners who can help clean adult TOA doujinshi, so sign-ups are open again. If you are interested, please sign up
here
. Thanks!