Our 4th release marks the first of our non-R18 project!

Title: Kostnice
Circle/Artist: Megaton Megane/Thomas
Characters/Pairing(s): Jade, Peony, Dist, appearances from the main party; implied Peony x Jade, Dist > Jade, but nothing you won't find in canon
Rating: PG
Summary: (contains spoilers for end of game)
An AU on the aftermath of the game. After everything the party went through, what if the Score isn't overthrown after all? What if the "Luke" that returned wasn't Luke or Asch, or even a two-in-one? An imaginary-- and tragic-- post-game realization of the Closed Score and the implications on Jade and Peony. Bring tissues.
Warning(s): Character death and sad ending
Scanner:
etyrnal_life
Downloads:
Mediafire - Link 1 (jpg,
~
30MB) and Link 2 (png, ~61MB)
Sendspace - Link 1 (jpg,
~
30MB) and Link 2 (png, ~61MB)
Redistribution policy: Go ahead as long as credits are left in.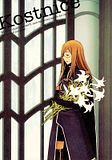 We haven't confirmed our next project, but once we do, it'll be listed on our profile page. Meanwhile, keep the comments coming! =]