Buusagi is proud to bring forward the release of our second Ace Attorney project to the first day of 2010 in celebration of the new year. Happy new year! :D
Title:
HighSchool Bebop
Circle/Artist:
Dokusai-Moratorium/Suzui Yukino
Characters/Pairing(s):
Phoenix Wright x Miles Edgeworth; Larry Butz
Rating:
R18
Scanner:
kamapon
Summary:
An AU story featuring Ace Attorney characters in high school where Edgeworth is student council president and Phoenix is as infatuated as ever and Larry manages to make things worse and better all at the same time. Side stories include a peculiar rendition of Shakespeare's As You Like It, and a guest apperance from Franziska.
Warning:
Semi non-con
Downloads:
Mediafire -
Link 1
(jpg, ~7MB) and
Link 2
(png, ~19MB)
Sendspace -
Link 1
(jpg, ~7MB) and
Link 2
(png, ~19MB)
Redistribution policy:
Go ahead as long as credits are left in.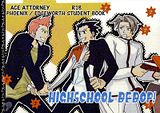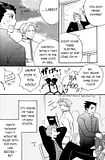 We hope you enjoy this as much as the last one - we certainly enjoyed your comments. ;)
We currently don't have anymore Ace Attorney projects coming up. If you know of any scans we may be interested in, please drop us a line here!